Exchange Server 2016 and Office Online Server Preview
Office Online Server (OOS) is the new and rebranded version of Office Web App server and is currently available as a preview release. OOS integrates with Exchange Server 2016 to allow Outlook on the Web (formerly Outlook Web App) users to preview supported email attachments without downloading them and without the need to have Office applications installed locally.  The supported OOS attachment file types are Excel, PowerPoint, OneNote and Word. Currently, OOS can only be installed and tested in a lab environment and not yet supported for production use.  Language packs are currently available to support Japanese and Spanish, as well as English. OOS is an optional add-on to an Exchange Server 2016 installation. It is installed only if needed, but it cannot be installed on directly on the Exchange server 2016 itself in the current preview.
Prerequisites:
Windows server 2012 R2 with .NET Framework 4.5.2 and necessary windows components installed.  The following PowerShell cmdlet will install all the necessary prerequisite components.Install-WindowsFeature Web-Server, Web-Mgmt-Tools, Web-Mgmt-Console, Web-WebServer, Web-Common-Http, Web-Default-Doc, Web-Static-Content, Web-Performance, Web-Stat-Compression, Web-Dyn-Compression, Web-Security, Web-Filtering, Web-Windows-Auth, Web-App-Dev, Web-Net-Ext45, Web-Asp-Net45, Web-ISAPI-Ext, Web-ISAPI-Filter, Web-Includes, InkandHandwritingServices
 
Public CA certificate with an OOS namespace. E.g. OOS.domain.com (This name space can be clubbed with other Subject Alternative Name (SAN) entries in the certificate used for Exchange so that one certificate can be used for the complete environment).
 
One internal IP address for the Office Online Server DNS namespace e.g.  OOS.domain.com.
The PowerShell cmdlet below can be used to configure Exchange 2016 with a new Office Web App Farm to use an internal URL and external URL. These will be the namespaces which internal and external/internet Outlook on the Web clients use to connect.

New-OfficeWebAppsFarm -InternalURL "https://oos.domain.com" -ExternalURL 
"https://oos.domain.com" -CertificateName "Exchange Certificate"
If an organization has only one Office Online Server then they could configure the Exchange 2016 server with the Office Online Server Discovery Point URL, to allow Exchange Server 2016 to send requests to directly Office Online Server. See figure 1 below for details. If adopting this approach make sure to configure internal DNS for OOS.domain.com to resolve to the Office Online Server. The PowerShell cmdlet below will configure Exchange 2016 server MBX01 with an Office Online Server Discovery end point.

Set-MailboxServer MBX01 -WacDiscoveryEndpoint
https://oos.domain.com/hosting/discovery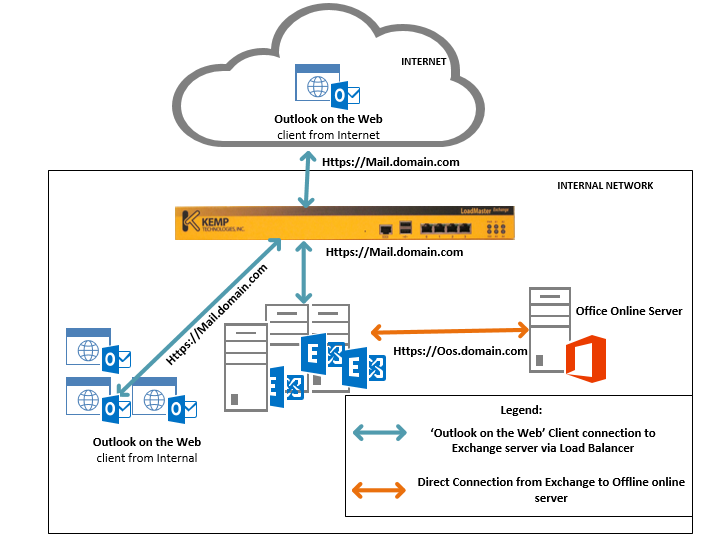 Figure 1. Outlook on the Web Client and Exchange server connection with single Office Online server.
Organizations that have more than one Office Online Server can configure a Discovery Endpoint at the Exchange organization level to allow Exchange servers to send requests to Office Online Server using a single namespace. The PowerShell cmdlet below can be used in an Exchange organization configuration to configure Office Online Server URL https://OOS.domain.com as a Discovery Endpoint.  

Set-OrganizationConfig -WacDiscoveryEndpoint 
https://oos.domain.com/hosting/discovery
When there are multiple Office Online Servers available the use of a load balancer is possible to distribute the load across multiple Office Online Servers on port 443. Figure 2 below outlines this setup. In this scenario make sure to configure Internal DNS for OOS.domain.com to resolve to the Virtual IP (VIP) address of the load balancer.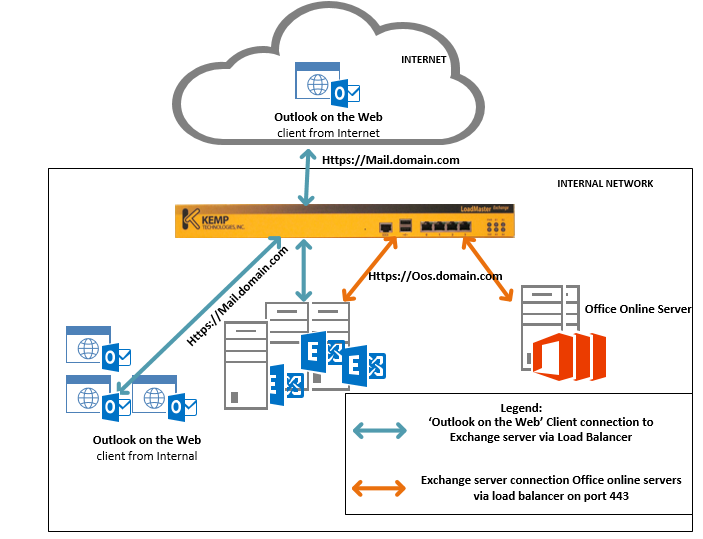 Figure 2. Outlook on the Web Client and Exchange servers load balancer connection with multiple Office Online server.
It is also possible to configure Office Online Server both at the server level and at the organization level in a single organization. E.g. In a multi-site environment, you could configure Office Online Server at the Exchange server level and pointing to a dedicated Office Online Server in each local AD site, and also have organization configuration which will allow Exchange 2016 servers to use the organization configuration URL when the dedicated local site Office Online Server is not available.